Sydney Harms lives in Loveland, Colorado with her two rescued pups Dizzy and Jayne. She didn't adopt Dizzy and Jayne from your typical adoption situation but rescued them personally from bad situations. Sydney rescued both dogs from Craigslist. Online animal sales through Craigslist, Facebook, etc. are so dangerous and terrifying for an animal to endure.
You have no idea where that animal could wind up
.
Luckily for Dizzy and Jayne, Sydney got to them before anyone else. Dizzy is a terrier mix and is just over one year old. When they got him from the seller on Craigslist, his fur was yellow from urine stains, and he smelled terrible. Dizzy was only nine weeks old when they got him in this condition. With loving care, proper food and training, Dizzy is an amazing dog who is thriving now.Jayne is also a terrier mix and is 11-months-old. She was 12-weeks-
old when Sydney rescued her from a lady who wasn't able to care for her and give her enough time. Immediately, Dizzy and Jayne became siblings and love playing, spending time together and going on adventures.
Sydney said she knew she became a dog mom the second she got Dizzy out of the awful situation he was in. Dizzy jumped in her lap and immediately began kissing her. With everything Sydney and her kids have gone through, it makes her pretty upset when someone says, 'it's just a dog.' "These two have truly shown me what it's like to have responsibility and to be a mom. They're my world," says Sydney.

Sydney, Dizzy and Jayne spend a lot of time together swimming, going to the dog park and making new friends and learning new tricks. Dizzy and Jayne love being outside more than anything, "they will take being outside over a treat any day," says Sydney.

One of Sydney's favorite memories with her kids is when she and her boyfriend recently took Dizzy and Jayne to Canvas and Cocktails where they painted a flower scene with their paws and flower prints.
Be sure to follow Sydney on Instagram, @harmssydney to see more adorable pics of her pups and check out her favorite dog charity,
Team Pit-A-Full
!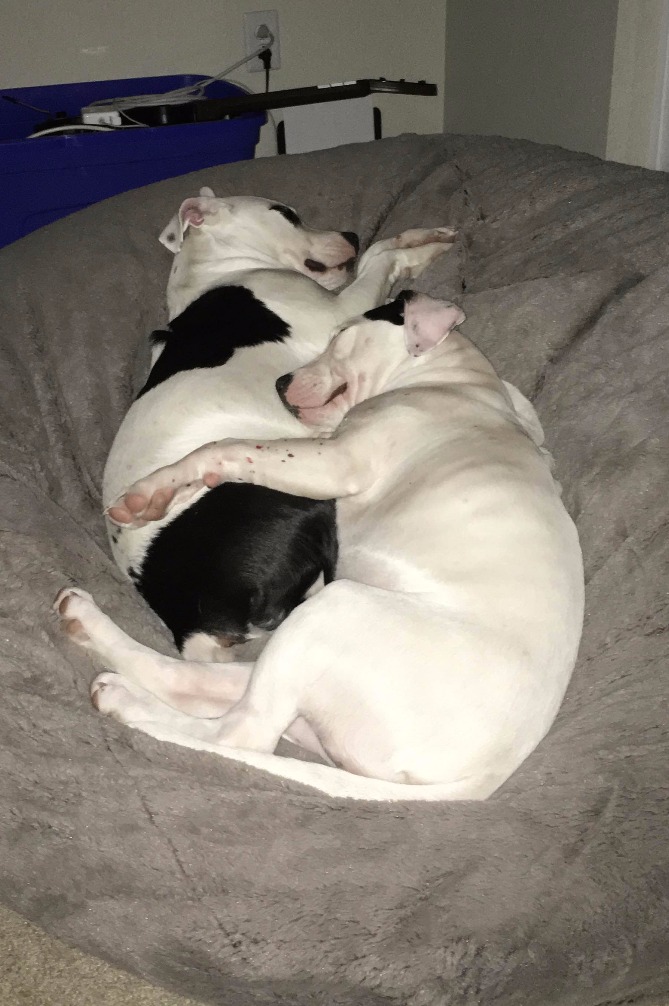 The Dog Mom of the Month feature celebrates extraordinary dog moms who share their stories about life, love, and happiness while living with and caring for their canine kids. Share your story to possibly be a featured dog mom by emailing alicia@theholisticpetwellness.co