Izzy is quite the adventurer. She has always loved road trips, travel, new places, hikes, swimming, etc. She is truly up for anything. Traveling with Izzy is and has always just been easy. She's a no fuss or frills kind of dog. Even though we do joke she can be the "diva" of our dogs 😉

Traveling with the other two can be a challenge for a few reasons. Hudson has anxiety and loves his home more than anything, and Mylah's illnesses often prevent her from extensive travel. Luckily, one of my best friends (their dog godmother) babysits, or Mylah's internal medicine veterinary technician babysits and thankfully did for this specific trip.

The latest road trip with Izzy was a blast. We drove nine hours to Table Rock Lake in Missouri for a friends' wedding. Izzy got to stay at the Mansion at Table Rock, swim in the lake, hang with some of her best people friends, chill in a wine cellar (this was a true mansion) and get a vacation from being the big sister at home.

Izzy is so good during long car rides that I need to stop for a bathroom break more than she even does! Whenever we do take rest stops, my husband and I never leave her alone in the car. We always switch off between who hangs with her in the car or takes her for a quick walk while we trade off going into the rest stop.

This trip we drove through St. Louis and stopped by the Arch for a few pictures with Izzy! There was construction on the Arch park so we double parked (oops) right below the massive flight of stairs, ran up them with Iz, took a few pictures and walked around for a bit. She loved it!
Once we got to the Mansion at Table Rock Lake, Izzy was a bit stir crazy and ready to run around. She had PLENTY of space to run around; she just ran up and down one hallway at one point because it was so long. Once 11 pm rolled around, after watching ping pong for an hour, I think she realized how tired she was, and we both went to bed.

She went swimming the next two days, attended a rehearsal dinner and hung out on the porch late night with the gang. By the end of each night, she was so pooped. When the wedding day rolled around, she did not care about being in our bedroom and snoozing for half the day/night.
We left Table Rock Lake early on July 3rd because we had to be back in Chicago that night for another friend's wedding. Iz slept most of the drive home 🙂

Photos from the trip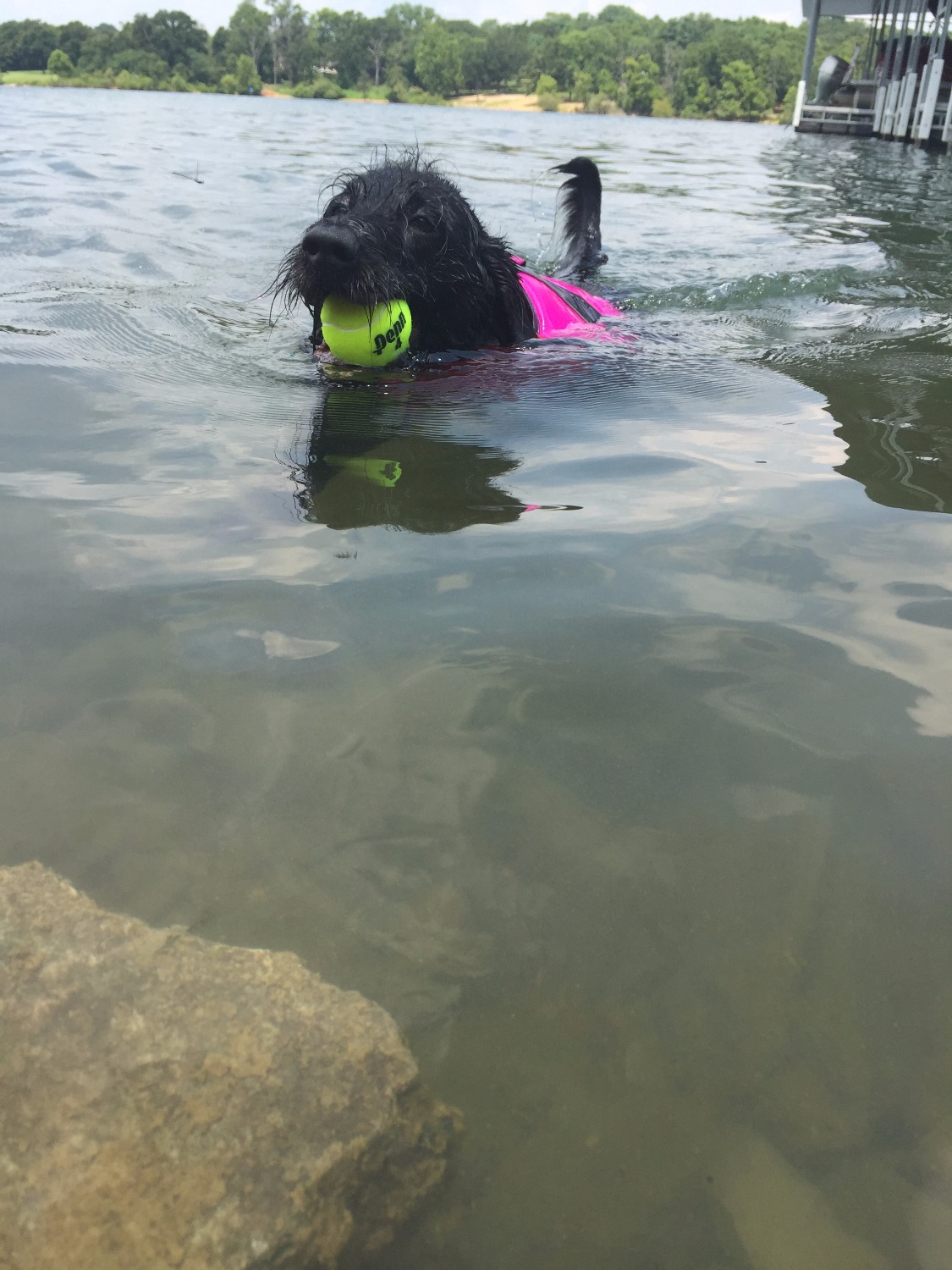 I also wrote about my tips for road tripping with dogs. Izzy has been on over 20 road trips we realized! Our other two have probably been on about ten shorter trips. Check out my tips for road tripping with dogs
here
.